Aquaponic horticulture scheduled for spring semester splash in Stanley County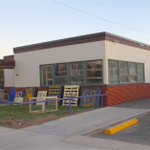 A $20,000 grant from the Turner Foundation has been awarded to the Stanley County School District. The money will be used to build an indoor greenhouse and aquaponics facility in the ag classroom building. Aquaponics and hydroponics are approaches to growing plants without soil; nutrients that would typically come from soil are delivered in mineral nutrient solutions. Confirmation of the grant award came from district superintendent Joel Price in the "good news" section of his regular report to the board at its regular monthly meeting Monday evening
Read More ...
Fight over fish farm, greenhouse is settled; aquaponics project to proceed
Nile Valley Aquaponics is back on track. Two sides that spent the summer feuding over a tilapia farm and community garden at 29th Street and Wabash Avenue say they have reached an agreement that will allow the project to go forward. "I'm pleased that we have moved past our differences," Harrel Johnson Jr., president of the Kansas City Keys, which owns the project site, said in a joint statement with
Read More ...
Next wave of ecopreneurs hopes to find key to making aquaponics profitable
In Chicago, where hungry mouths outnumber plots of soil, urban agriculture has boomed in recent years and extends across more than 230 community gardens and 60 urban farms. Still, not all eco-friendly businesses have been sustainable. Amid the swelling tide for local food, aquaponics — a method of farming that cultivates aquatic life and produce in connected tanks — offers a possible method for harvesting not only greens in an
Read More ...