I've fulfilled my dreams already – Klopp has no plans to coach Barcelona

Liverpool manager Jurgen Klopp says he is not interested in the prospect of joining Barcelona as he has already fulfilled his dreams in his career. The 50-year-old was linked as a possible replacement for Luis Enrique early this year, before Ernesto Valverde was appointed as his successor at Camp Nou in May. Related But Klopp, whose Liverpool side take on Sevilla in Spain in the Champions League on Tuesday, claims he would not need to take charge of the Catalan giants in order to take a step up in his career
Read More ...
Guardiola wears yellow ribbon in support of Catalunya's political prisoners

Pep Guardiola wore a yellow ribbon to his Manchester City press conference on Monday as a show of solidarity for Catalunya's political prisoners. Several members of Catalunya's deposed government have been incarcerated pending further investigation into alleged rebellion and misuse of public funds by Spanish officials since the region's controversial independence vote at the start of October. Two Catalan independence activists, Jordi Sánchez and Jordi Cuixart, were jailed in October, before eight members of Carles Puigdemont's parliament were detained at the start of November
Read More ...
Benzema the fall guy as Real Madrid flounder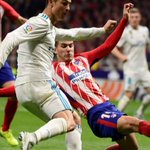 MADRID (AFP) - In a recurring theme of Real Madrid's stuttering season, Zinedine Zidane protested all his side lacked was a goal as they fell 10 points behind La Liga leaders Barcelona after firing more blanks in a bad-tempered Madrid derby. Yet, in attempting to defend a lacklustre performance from Saturday's stalemate at Atletico Madrid, Zidane turned the spotlight once more on the misfiring Cristiano Ronaldo and Karim Benzema
Read More ...
I don't know if Ronaldo and Ramos are fighting, says Marcelo

Real Madrid full-back Marcelo said he is unaware of a reported falling out between captain Sergio Ramos and star forward Cristiano Ronaldo. Talk of a rift between the two emerged following a reported difference of opinion at the Spanish and European champions. Related Ramos disagreed with Ronaldo's belief that Madrid have a weaker squad this season following the departures of Alvaro Morata, James Rodriguez and Pepe
Read More ...
'Barca will lose points' - Zidane keeping up hope despite derby stalemate

Zinedine Zidane is refusing to be downbeat after Real Madrid's derby stalemate against Atletico Madrid and insists his side are on "the right path". The 0-0 draw means that both sides are now 10 points behind La Liga leaders Barcelona after they cruised past Leganes 3-0 earlier on Saturday. No side has ever come back from that deficit to win the title, but Zidane remains confident his team can turn things around and put Ernesto Valverde's high-flying Catalans under pressure
Read More ...
Sacked Catalan leaders get pride of place in electoral lists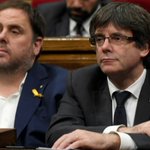 MADRID (AFP) - Jailed and exiled figures from Catalonia's separatist movement feature prominently in party lists unveiled by the region's pro-independence factions, ahead of elections called for December 21. Of the 14 members of the Catalan government who were dismissed by the central government in October, 12 are on the two main separatist lists, the "Together for Catalonia" group of sacked president Carles Puigdemont and the Republican Left of Catalonia (ERC), led by his vice president Oriol Junqueras
Read More ...
No goals and no hope? Madrid & Atleti now need a miracle to catch Barca

The two capital clubs cancelled each other out in the derby at the Wanda Metropolitano on Saturday night and the only real winner was the Blaugrana The gap was already big and now it is even greater. A dour draw in the derby between Atletico and Real Madrid means that both teams are 10 points behind Barcelona in La Liga. Even at this early stage, it seems an almost insurmountable deficit
Read More ...
A sub-desert savanna spread across Madrid 14 million years ago
The current landscape of Madrid city and its vicinity was really different 14 million years ago. A semi-desert savanna has been inferred for the center of the Iberian Peninsula in the middle Miocene. This ecosystem was characterized by a very arid tropical climatic regime with up to ten months of drought per year, according to a recent paper. Scientists reached such conclusions after comparing mammal fauna with Africa and Asia ones
Read More ...
Skriniar: I am not interested in Barcelona

Milan Skriniar has pledged his future to Inter despite being linked with a move to La Liga giants Barcelona. Skriniar only made the switch to San Siro in July but he has already proved a big success as Luciano Spalletti's side have kept pace with Napoli and Juventus in the title race in Serie A. Related Inter are only two points behind leaders Napoli after 12 unbeaten games, winning nine and drawing three, with Skriniar forming an impressive central defensive partnership with Miranda
Read More ...
Ronaldo: Real Madrid do not fear possible PSG challenge

The forward insists he and his team-mates are not scared of potentially tackling Neymar and Co. in the Champions League last 16 Cristiano Ronaldo insists he and reigning two-time Champions League winners Real Madrid do not fear Paris Saint-Germain in Europe. Following their shock defeat to Tottenham earlier this month, Madrid face the prospect of finishing second in Group H, which would pit the defending champions against a European powerhouse
Read More ...