Brace for wet mornings, Met tells Nairobi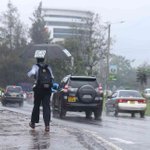 Nairobi residents should brace for more rains in the morning, says latest forecast from the Meteorological Department. According to the seven-day forecast released yesterday, there will be morning rains and afternoon showers over few places in Nairobi, Nyandarua, Nyeri, Kirinyaga, Murang'a, Kiambu, Meru, Embu, and Tharaka Nithi counties. There will be sunny intervals in the morning in the North Rift counties of Trans Nzoia, Uasin Gishu, Baringo and Elgeyo Marakwet
Read More ...
Section of Aberdare forest on fire, KFS says
A section of the Aberdare National Park is on fire, a Kenya Forest Service (KFS) official has confirmed. Nyeri ecosystem conservator and KFS zonal manager Muchiri Mathinji said the fire broke out at around 10 a.m. in the moorlands area of the Aberdare ranges. This comes after the organisation issued a fire alert notice due to persistent hot and windy weather that has prevailed the country. "We cannot estimate the
Read More ...
Marsabit wind, solar power project halted as land dispute goes to court
A land dispute in Marsabit has stalled the construction of a 300MW wind power and a 50MW solar project in Bubisa, months after a similar dispute scuttled a 60MW wind power project in Kinangop. Such disputes have become the biggest drawbacks to Kenya's quest for green energy. The dispute is between some politicians in Marsabit County and Gitson Energy, a company owned by a group of Kenyans living in the
Read More ...
AG Githu fights wind power firm's claim for compensation
A Virgin Islands-registered firm that was to construct a Sh15 billion wind power farm in Kinangop has sued the Kenyan government for compensation over the project's failure, putting at stake billions of shillings in public funds. Kinangop Wind Park Limited is looking to cash in on an indemnity that the Ministry of Energy had promised it as insurance in the event that the project failed to take off for political
Read More ...
Columns
Are Kenya's emotion sinks bursting at the seams? The house formerly owned by General Reginald Wainright, at Pesi, 6km off Nyahururu –Nyeri Road. From this veranda he watched his employees dance kibata. [Photo: XN Iraki] NAIROBI: Carbon sinks which include forests and even oceans absorb carbon dioxide and slow down global warming to keep our weather systems in equilibrium. They are not different from the sink in your house which
Read More ...
Nyandarua farmers stuck with fish in ponds due to lack of ready buyers
County in a major campaign to educate residents on the benefits of eating and rearing fish.
Read More ...
Winds of dissidence, Kinangop, Nyandarua counties wind energy project faces stiff opposition
The future of a wind project in Kinangop, Nyandarua counties remained unclear after residents held protests claiming they had been misinformed about it. One person was reported to have died and several others injured during the protests.And as Andrew Ochieng' reported, residents were divided over the project.For more news visit http://www.ntv.co.keFollow us on Twitter http://www.twitter.com/ntvkenyaLike our FaceBook page http://www.facebook.com/NtvKenyaFrom:NTV KenyaViews:54 0ratingsTime:02:12More inNews & Politics
Read More ...