Dominic Samson bags bronze in race walk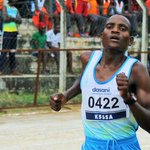 Kenyan youngsters on Saturday continued to make history when Dominic Samson became the first Kenyan to win a race walk medal at a world athletics event with bronze in the boys' 10,000m event at the World Under-18 Championships at Kasarani. The 17-year-old Samson, who is a Form Two student at Kiandege Secondary School in Nyamira County, delivered a personal best of 41 minutes and 25
Read More ...
FKF Women Premier League wrap
Oserian Ladies quest to win FKF Women League continued off in perfect fashion following their 11-1 thumping of Baringo Starlets in Eldama Ravine Stadium on Sunday. FKF Zone B league leaders Vihiga Queens humiliated Vihiga Leeds recording a comfortable 7-2 win in a match played on Mumias Complex. Elsewhere, in Nyamira, Nyamira Starlets were subjected to a 3-0 loss by third placed Wadadia, who are seven points behind league leaders
Read More ...
Ouma names seven new players for Morocco friendly
Harambee Starlets head coach David Ouma has named seven new players including four debutants as the national team heads out to Morocco on Thursday morning for a week-long training camp. Enez Mango, Doris Onyango and Purity Nyongesa who never made the cut of 20 for the CECAFA Women's Championship squad have been included for the Morocco trip alongside debutants Janet Moraa from Nyamira Starlets, Pauline Naisi from Vihiga Leeds, Esther
Read More ...
Queens top women league as Nyamira run riot
Queens top women league as Nyamira run riot Lucy Mukinana (left) of Thika Queens FC is tackled by Cherish Avilia (right) of Spedag FC during a Kenya Football Federation Women Soccer League match at the Mombasa Sports Club, September 02, 2016. [PHOTO BY GIDEON MAUNDU/STANDARD]. Football Kenya Federation (FKF) women Premier League zone A defending champions Thika Queens have dethroned Spedag from the summit of the table standings. Thika Queens
Read More ...
10th edition of Safaricom Kisii Half Marathon set for Friday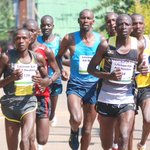 Nairobi, Kenya – 11 August 2015…Preparations for the 10 Edition of the Safaricom Kisii Half Marathon are in top gear ahead of the event scheduled to take place this Friday 12 August. Last year's winners Grace Momanyi and Philip Koech are expected to defend their titles at the event, which will host over 500 athletes from North and Central Rift, Bomet, Nandi, Nyamira, Eldoret, Iten, Kisii, Kilgoris and Transmara regions.
Read More ...
Magura hit Kiptenden in Nyandoro tourney
MAGURA upset hosts Kiptenden 5-1 in Dr. Nyandoro Kambi soccer tournament match in Borabu, Nyamira County.Bernard Nyasaka scored a hat-trick while Cliff Sano added two other goals for the visitors. Kevin Kimani scored Kiptenden's consolation goal. Eleven Brothers were awarded a walkover after Umoja failed to honour the
Read More ...
Protests rock FKF branch polls in Kisii
Protests rocked the Kisii, Rachuonyo and Nyamira Football Kenya Federation branch elections following allegations of doctored lists of delegates eligible to vote in the polls on Tuesday.
Read More ...
Blue Stars beat Mecheo in Nyandoro Kambi tournament duel
FAVOURITES Blue Stars hit Mecheo FC 5-0 in a midweek match in the ongoing Dr Nyandoro Kambi football tournament in Borabu, Nyamira County.Emmanuel Kaka scored a hat-trick before Richard Simato and Douglas Minacho wrapped up the scores for the winners in the match played at Ensoko playground.Nyandoche Ibere upset Saint Jimmy 4-0 at Menyenya playground with Machuki Onchuchu, Geoffrey Nyakiba, Dennis Gisemba and Brian Onyambi on target
Read More ...
Shabana to benefit from government support
Football KenyaFederation Premier League [FKF PL] side Shabana FC is waiting for a handsomesupport from Nyamira and Kisii County in a bid to better the team's welfare forpositive performance.
Read More ...
Omari prevails at Nyamira county cross country race
Kisumu Marathon champion Declerk Omari won the senior men's 12km race during the Nyamira county cross country meeting after posting 34:47.49 at Kiendege Secondary School. Samuel Nyarwaba clocked 35:21.94 for second place while Dennis Chanchima was third after returning 35:31.70. Geoffrey Bundi (35:31.70) and Dennis Kiyaka (35:47.890 completed the top five places in the category. Chepkoech Faith cut the tape in 29:49.69 to win the senior women's 8km race. She was followed by Teresia Omosa in 30:04.92 with Christine Oigo third in 30:59.37. Lydiah Orang'o placed fourth in 31:14.96. Winfrida...
Read More ...
Omari leads strong field for Nyamira x-country
Kisumu Marathon champion Declerk Omari will headline the Nyamira county cross championships tomorrow. Omari, who won Kisumu Marathon in December in 2:13:04 is among elite runners, who have confirmed their participation in the county championships to be held at Kiendege Secondary School in Manga sub-county. Athletics Kenya (AK) Nyamira County secretary George Ogeto yesterday cited Boaz Mayaka and Damaris Areba as the other elite runners expected to grace the occasion. Areba represented Kenya in Chiba Ekiden last year. Ogeto said they expect more than 200 athletes to battle it out for places in...
Read More ...
FKF Nyamira sub-branch suspends all activities
FOOTBALL Kenya Federation (FKF) Nyamira sub-branch have suspended all football tournaments in the county. Sub-branch chairman said the suspended tournaments include the Nyamira Governor's Cup which is sponsored by the county government. He warned federation officials and referees against taking part in any tournament not sanctioned by the sub branch and asked individuals interested in sponsoring football tournaments to liaise with the federation. "FKF is constitutionally mandated to handle all football matters in the county. I urge people who want to sponsor tournaments to engage us first,"...
Read More ...
Township face Blue Stars in Dr Nyandoro Kambi tourney
TOWNSHIP FC face off with Blue Stars this Sunday in the Dr Nyandoro Kambi soccer tournament in Borabu, Nyamira County. Tournament organiser Manoah Oino said the final will be played at Menyenya Primary School playground from 2pm. Tiger will play Keritor FC tomorrow at Kiptenden playground in third place play-off. Township reached the final after edging out Tiger 4-2 on post match penalties. The teams played to a 1-1 draw after extra time.Samuel Omaiko gave Tiger the lead in the 65th minute but Chris Momanyi levelled for Township in the 73rd minute at Nyagacho playground last weekend. Both...
Read More ...