Michigan woman gets life for murder in parrot case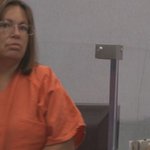 WHITE CLOUD, Mich. — The wife of a Sand Lake man found fatally shot inside the couple's home was sentenced Monday to life in prison for his May, 2015 death. A Newaygo County jury last month found Glenna Duram guilty of first-degree murder in the shooting death of 46-year-old Martin Duram in Newaygo County's Ensley Township. She suffered a gunshot to the head but has recovered
Read More ...
Stepfather charged with homicide after Michigan toddler's death
NEWAYGO COUNTY, Mich. — The stepfather of a 14-month-old girl who died after reportedly being abused has been arrested for a second time, and charged with homicide. According to jail records, 29-year-old Wayne Brown also faces aggravated assault charges. Brown had previously been arrested on Feb. 14, when the abuse allegedly happened, for domestic abuse against the mother of Laylah Heether. However he did not face charges related to the
Read More ...
Critics call Michigan jail pay-to-stay programs counterproductive
Inmates often leave jail owing thousands of dollars they can't afford to pay Buy Photo. Editor's note: This story originally appeared on the Bridge Magazine website: Hope you enjoyed your stay at the county jail. Here's your bill. The website for Newaygo County Jail, north of Grand Rapids, is upfront about what it expects from inmates. They will be billed when they leave — $30 a day for housing and
Read More ...
Western Michigan man dies while building hunting tree stand
ENSLEY TOWNSHIP, Mich. (AP) — Michigan State Police say that a Sand Lake man has died after falling from a hunting tree stand. State police say 39-year-old Domingo Castro Jr. was pronounced dead at the scene Saturday afternoon in Ensley Township in Newaygo County. Police say they received a 911 call reporting that Castro had fallen and that CPR was in progress. Troopers say Castro was building a tree stand
Read More ...