1 killed, 2 injured in Marquette County rollover crash
An Oxford man was killed and two juveniles injured Sunday evening in a single-vehicle rollover crash in Marquette County. The crash happened at about 6:20 p.m. on Fox Road in the town of Oxford, the Sheriff's Office said. Preston Roller, 25, was pronounced dead at the scene, and the two juveniles, both from Columbia County, were taken to local hospitals with life-threatening injuries
Read More ...
U.P. school: Quit hanging hammocks on trees or pay $25 fine
MARQUETTE, Mich. — Northern Michigan University is warning students they could face a $25 fine for hanging a hammock on trees in the city of Marquette. WLUC-TV reports hammocks are allowed on the school's Marquette campus. But a letter from the Upper Peninsula school says the city asked the school to make people aware that hammocks have been causing tree damage in public areas, such as Presque Isle Park. Related:
Read More ...
How a regular guy got a cult following and his face on a T-shirt
Phil's 550 Store owner Phil Pearce discusses how he became Michigan's most famous party store owner. Ryan Garza, Detroit Free Press. MARQUETTE, Mich. — Where's Phil? That's what everyone always asks. And everyone was asking now. Gretchen Speckin didn't know what to tell them. The Northern Michigan University freshman was minding the store for her boss, the namesake behind Phil's 550 Store. She was standing behind the counter by
Read More ...
Road agency in Upper Peninsula gets legal help in dispute
MARQUETTE, Mich. (AP) — A road commission in Michigan's Upper Peninsula is getting free legal help as it turns to an appeals court in a dispute over a road and wetlands. Pacific Legal Foundation is taking the case. It describes itself as a group that fights for limited government and a balanced approach to environmental protection. The Marquette County Road Commission had proposed to fill 25 acres of wetlands to
Read More ...
Republican official Dan Adamini apologizes after calling for 'another Kent State'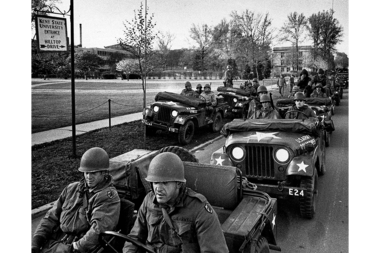 A Republican official has apologized for calling for "another Kent State" massacre in response to recent university protests. Dan Adamini, the secretary of the Marquette County Republican Party in Michigan, tweeted that he was "sorry" for a pair of social media posts in which he referenced the infamous fatal of four unarmed college students by National Guardsmen during an anti-Vietnam War protest, and suggested that a similar incident might be
Read More ...
Michigan Republican's tweets about protesters condemned
MARQUETTE, Mich. (AP) — Democratic and Republican party leaders in Michigan and Kent State University are condemning online comments from a county-level Republican that appeared to suggest shooting protesters. Dan Adamini, secretary of the Marquette County GOP, last week tweeted: "Violent protesters who shut down free speech? Time for another Kent State perhaps. One bullet stops a lot of thuggery." In 1970, the Ohio National Guard fatally shot four Kent
Read More ...
Michigan DNR considers shooting range for U.P.
MARQUETTE, Mich. — The state of Michigan is considering the first public shooting range in the Upper Peninsula. The Department of Natural Resources is holding a public meeting Sunday at 5 p.m. at Sands Township Hall in Marquette County. The DNR has a list of possible sites in the area and also wants to know if anyone has ideas for other locations. Lori Burford of the DNR tells The Mining
Read More ...
Marquette County store owner, employee hurt in armed robbery, sheriff says
A convenience store owner and an employee of the store were injured Thursday during an armed robbery in Marquette County. The robbery happened at about 1:15 p.m. at the Gohl Post BP station near Interstate 39 and Highway 23 in the village of Endeavor, the Sheriff's Office said. Arriving deputies found the owner and employee injured, following a fight with the suspect. "The masked suspect entered the establishment and confronted
Read More ...