Toyota rolls out new Camry in SUV-crazed U.S.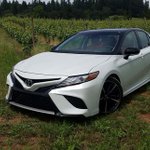 Portland, Oregon — Thirty-five years ago, Toyota exploited high gas prices and federal fuel-efficiency regulations to take a historic foothold in the U.S. auto market. Joined by other Japanese firms like Honda and Nissan, Toyota led the sea-change from big, American gas-hogs to the cars Americans craved: cheap, fuel-efficient sedans. But today the U.S. market is in the midst of a seismic shift away from cars to bigger SUVs that, for the first time in decades, plays to Detroit automakers' strengths
Read More ...
The 2018 Toyota Camry
The new XLE version of the 2018 Toyota Camry is unveiled during the North American International Auto Show at Cobo Center in Detroit on Monday, Jan. 9, 2017.
Read More ...
Why Toyota won't make a Prius SUV
Toyota launched the Prius in 2000 in the U.S. and has turned the hybrid into the most dominant nameplate among hybrid and electric cars. The Toyota Prius is by far the most popular hybrid ever and has morphed, over the years, into a family of four cars. Toyota sells the standard Prius hybrid, the Prius c subcompact hatchback, Prius v station wagon and is in the process of launching the
Read More ...
Potentially deadly brake defect triggers Toyota Prius recall
Japanese automaker Toyota has launched a global recall of its redesigned Toyota Prius sedan after reports of a potentially deadly defect involving the parking brake. The company is recalling 340,000 units of the Prius globally, including 212,000 in Japan and 92,000 units of the 2016 and 2017 models in the U.S. "On the involved vehicles, there is a possibility that the parking brake could become inoperative," Toyota said Wednesday in
Read More ...