Experimental Vaccines Offer Promise in War on Malaria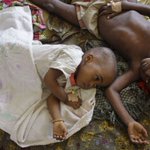 WASHINGTON — Two vaccine candidates have been shown to be effective — in one case, 100 percent effective — in preventing malaria. The biotech firm Sanaria Inc. of Rockville, Maryland, developed the vaccines. They prime the immune system against the malaria parasite by introducing live but weakened sporozoites — the earliest spore stage of the parasite — which infected mosquitoes inject into the body, beginning the cycle of disease. In
Read More ...
Hundreds of DC-area Residents Receive Free Kidney Health Screenings from American Kidney Fund
ROCKVILLE, Md., Jan. 10, 2017 /PRNewswire-USNewswire/ -- More than 300 local residents learned about their risks for kidney disease this past weekend with free kidney health screenings from the American Kidney Fund (AKF) at the NBC4 Health and Fitness Expo in Washington, D.C. In recent years, AKF screenings have helped more than 100,000 people nationwide identify whether they are at risk for developing kidney disease because of diabetes, high blood
Read More ...
Health and Well-being Initiative Hosted at Children's Hospital of Los Angeles Targets Wellness Disparities Faced by the Latino Community
GAITHERSBURG, Md., Dec. 19, 2016 /PRNewswire-USNewswire/ -- MALDEF (Mexican American Legal Defense and Educational Fund), the Walmart Foundation and Sodexo, world leader in quality of life services, hosted a nutrition workshop at Children's Hospital Los Angeles on December 17th. The event was part of the Parent School Partnership (PSP) program, a MALDEF initiative that seeks to provide parents the tools they need to become agents of change in their communities.
Read More ...
Soldier from Takoma Park dies of injuries from bomb blast
A soldier from Takoma Park died Tuesday at Walter Reed National Medical Center in Bethesda of wounds from a suicide bomb attack in Afghanistan last month, the Defense Department said. Sgt. First Class Allan E. Brown, 46, was assigned to the headquarters unit of 1st Special Troops Battalion, 1st Sustainment Brigade, 1st Cavalry Division, Fort Hood, Texas. Details of Brown's service record were not immediately available. Brown is the second
Read More ...
The Emmes Corporation, LDS Hospital, Lovelace Biomedical Environmental Research Institute, and U.S. Army Recognized In Major Research on Traumatic Brain Injury
ROCKVILLE, Md., Nov. 14, 2016 /PRNewswire-USNewswire/ -- The Emmes Corporation today announced that a large team of scientists and health professionals including those from the company, LDS Hospital in Salt Lake City, Utah, Lovelace Biomedical Environmental Research Institute in Albuquerque, New Mexico, and the U.S. Army Medical and Materiel Development Activity at Fort Detrick, Maryland, have authored a series of papers summarizing significant research on traumatic brain injury in the
Read More ...
Sodexo Sponsorship of Marine Corps Marathon Kids Run Bolsters Childhood Health and Wellness
GAITHERSBURG, Md., Oct. 31, 2016 /PRNewswire-USNewswire/ -- , world leader in Quality of Life Services, partnered with the United States Marine Corps last weekend for its annual Marine Corps Marathon (MCM) Kids Run, an annual lead-up activity to the largest marathon in the world that doesn't offer prize money. Sodexo, which has a track record in improving the health and wellbeing of customers all ages, has sponsored the event since
Read More ...