Matiang'i swings into swift action after assuming Nkaissery's role
By HILARY KIMUYU Newly appointed acting Cabinet Secretary for Internal Security Dr Fred Matiang'i has imposed a three-month dawn to dusk curfew in Lamu, Tana River and Garissa. This came just a few hours after Dr Matiang'i took over from his predecessor Joseph Nkaissery who passed on at a Nairobi hospital early on Saturday morning. In a gazette notice on Saturday, Dr Matiang'i said the order shall be effected from July 9 to October 9, 2017
Read More ...
Whale bones, corals form beautiful artworks in Lamu
The fourth biennial Lamu Painters Festival took a radical turn this year when its founder and patron Herbert Menzer shifted his sights slightly from embracing not only the more traditional 'plein air' (open air) painters but also inviting a number of conceptual and experimental artists, both European and Kenyan. It didn't mean that Herbert gave less attention to the more than 20 European figurative artists who had come this year
Read More ...
Traders record profits during Lamu Art fete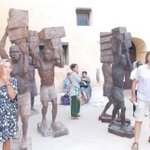 The second edition of the Art Festival in Lamu county ended yesterday as hoteliers and boat operators recorded huge benefits. It led to an influx of tourists to the island. The main goal of the event was to preach the message of change among drug users, especially the youth. The three-day edition kicked off on Friday and featured paintings and sculptures from more than 40 artists from across the world
Read More ...
Lamu artists showcase splendid works at inaugural festival
The art work being displayed in the first Lamu Art festival which was done by local artists.Lamu Island is known for its rich culture and unique art. This impressive cultural heritage was showcased during the just concluded Lamu art festival.The county government, in partnership with international artists, came up with the festival to promote and nurture artists through training and exhibition of their
Read More ...