Tercer y último día del Mercedes-Benz Fashion Guatemala
Más noticias que te pueden interesar "… ya no nos arrodillemos frente al miedo… hay que buscar justicia": Érick Lancerio... Las nuevas publicaciones de Vin Diesel donde muestra su figura actual Escuchas revelan cómo Lima realizó negocios con unionistas Dovizioso gana en Malasia y peleará el Mundial a Márquez en Valencia En el área de Boxes, el "Contemplation" estará a cargo de MARIAS, con Alida Boer y Edgar Navarro
Read More ...
Guatemala Police Turn Drug Dealer's Corvette Into A Police Car
As it turns out, it's not just police in Texas benefiting from seized drug dealer cars, authorities in Guatemala recently turned a drug dealer's Corvette Stingray into a new police cruiser. The sports car was seized from Manuel Felipe Arelanes Monroy when he was arrested in 2016 and swiftly re-painted (or wrapped) in the blue, white and yellow colors of the National Civil Police force
Read More ...
McLaren Honda resucita
Por fin sale la luz para McLaren Honda en Bahréin. Tan sólo 24 horas después del fallo de motor que sufrió el martes Oliver Turvey, y que obligó a sustituir la unidad de potencia del MCL32 haciéndole perder la primera jornada de test post carrera, la escudería anglo-nipona vivió su mejor día del año hasta el momento. Stoffel Vandoorne, el encargado de subirse al McLaren este miércoles, ya había dado 56 vueltas a la una de la tarde (hora peninsular española), cinco horas después de arrancar la segunda jornada de entrenamientos en el circuito de Sakhir, y acabó el día con 81 giros
Read More ...
Peugeot-Citroën cierra la compra de Opel Europa
Especialistas afirman que esta nueva compra permitirá reforzar aún más a Opel y Vauxhall a largo plazo. El Consejo de Administración de PSA, el grupo Peugeot-Citroën, había aprobado ya oficialmente el pasado día 3 la compra de Opel para crear un gigante europeo del automóvil de envergadura mundial. La operación da paso al segundo constructor europeo de coches, solo por detrás de Volkswagen. El presidente de PSA, Carlos Tavares, pidió tranquilidad a los trabajadores de PSA y de Opel en España durante la conferencia de prensa organizada en París junto a la responsable ejecutiva de GM, Mary Barra
Read More ...
Peugeot negocia compra de Opel
El grupo francés PSA Group anunció el martes que mantiene conversaciones con el estadounidense General Motors sobre una potencial compra de su negocio europeo, Opel. Una portavoz de la compañía francesa, dueña de Peugeot, dijo que las negociaciones contemplan varias opciones, entre las que se incluye dicha adquisición. Por su parte, un portavoz de GM confirmó que se están manteniendo conversaciones para aumentar la cooperación entre las dos empresas, sin
Read More ...
Fiat Chrysler: otro escándalo por emisiones
El Gobierno de Estados Unidos acusó a Fiat Chrysler Automobiles por usar software que permite tener excesos de emisiones diésel en cerca de 104 mil vehículos. Las acciones de la compañía se desplomaron a tal punto que su negociación tuvo que ser suspendida. La Agencia de Protección del Medio Ambiente de ese país (EPA) alega que Fiat Chrysler violó la Ley de Aire Limpio (Clean Air Act) al instalar
Read More ...
Japón defiende a Toyota, tras amenaza de Trump por fabricar autos en México
El Gobierno japonés se pronunció en defensa de Toyota Motor Corp. como un "ciudadano corporativo importante" de Estados Unidos, tras las declaraciones del presidente electo Donald Trump, donde amenazó a la empresa con un fuerte arancel si fabrica sus modelos Corolla, para el mercado estadounidense, en una planta en México. Esta semana, Ford Motor Co. informó que dará marcha atrás a sus planes de construir una planta de ensamblaje en
Read More ...
Ford, General Motors, Toyota: por qué Donald Trump es tan hostil con los fabricantes de automóviles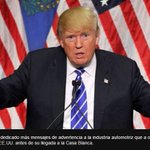 Pero con pocos sectores ha sido tan claro como con las automotrices, no solo de su país, sino también las del extranjero. Esta misma semana ha amenazado con imponer "grandes aranceles" a los fabricantes estadounidenses Ford y General Motors (GM), y al japonés Toyota, si siguen ensamblando sus vehículos fuera de EE. UU. y los venden en su país. "Fabrica en EE. UU." es la bandera con la que marcha
Read More ...