Uhuru endorses 'moderate' consumption of Busaa during Western tour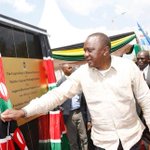 President Uhuru Kenyatta caused a stir on Friday when he endorsed the consumption of Busaa - an alcoholic drink that is popular in Western. Uhuru made the endorsement at Malaba Township Primary School during his tour of Western where he campaigned for the Jubilee Party and launched development projects. Uhuru was responding to a concern by Busia Governor Sospeter Ojaamong who accused police officers in the county of harassing local
Read More ...
Ignore fast food, Kakamega residents told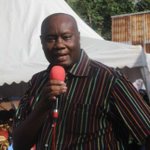 Busia Governor Sospeter Ojaamong has urged residents of Western to stop consuming fast foods and instead resort to healthful foods. He said fast foods compromise health. Ojaamong spoke on July 16 at the official opening of the Kakamega ASK Show. He rooted for the use of traditional crops such as cassava and finger millet.
Read More ...
Travellers stranded at borders as yellow fever vaccine are delayed
Travellers are stranded at Busia and Malaba borders due to lack of yellow fever vaccine. Some of those without yellow fever certificates have already spent two nights in the cold as they await the ministry of Health to deliver the vaccine at the Kenya-Uganda border towns. On April 18, the government made vaccination mandatory for those travelling across borders. Business people travelling from Kampala to Nairobi said they have incurred
Read More ...
Travellers stranded at Malaba border for lack of yellow fever certificates
Public health officials at the Busia and Malaba border points have been accused of seeking bribes to allow travellers without yellow fever certificates to enter or exit the country. The officers have resorted to using brokers to identify those willing to pay money in order to be cleared to travel, it has been claimed. Hundreds of passengers were stranded at the border posts for lack of the certificates. Some were
Read More ...
Travellers caught unawares as yellow fever order effected
Passengers were stranded at Busia and Malaba borders following a directive by the Health ministry that they produce yellow fever certificates which most did not have. Speaking to Nation, some of the travellers said they arrived at the border at 4am from Nairobi and wee told to produce a yellow fever certificate to be allowed into Uganda. "We are stranded and I don't know what to do. I was travelling
Read More ...
Kakapel rock paintings site ideal for camping, hiking
Africa's rock art is the common heritage of all Africans but it is more than that. It is the common heritage of humanity. These were the words of the humbled first post-apartheid South African President the late Nelson Mandela as documented by the African Rock Art network organisation. However, to any visitor in Busia county, the tranquillity and amazement experienced at the Kakapel rock paintings site is more than words.
Read More ...
Bunyore Hills: Where locals 'freely mingle with leopards'
Just five kilometres to the right of Luanda Township on the Kisumu-Busia highway, are magnificent hills that mark the border of Vihiga and Kisumu counties.And below the Bunyore Hills is Kima Township, made famous by Bunyore Girls High School and the Church of God, Kenya and African headquarters.Outside the township is a countryside with huge granite rocks, springs, mashes and bushy valleys.Interestingly, some of Kima's business premises such as the
Read More ...
How Immaculate Built An All-Round, Thriving Poultry Empire At 23
Matatus, boda boda riders and heavy trucks are competing for the little space left by earth movers constructing the Kisumu-Busia highway. We manage negotiate our way to Tiengre Shopping Centre, a 20-minute drive from Kisumu Town.From here, one can see Kit Mikayi rock, a famous tourist attraction to the north and to the east, you can see aeroplanes landing and taking off from the Kisumu International Airport
Read More ...
Busia hoteliers seek funds to boost tourism
Busia County government has been asked to allocate more resources to promote and market the county as a preferred tourist destination.
Read More ...
Busia holds first prayer breakfast
Kenyans have been urged to unite and fight terrorism. Busia Governor Sospeter Ojaamong said the closure of hotels and loss of more than 20,000 jobs in the tourism sector is a wake up call to Kenyans to embrace peace. He spoke during the county's first breakfast prayer meeting at Farmview Hotel last Friday. Ojaamong urged residents to work together and embrace each other regardless of their tribe, background and colour. Deputy Governor Kizito Wangalwa urged residents to repent. Anglican Bishop Joseph Wesonga of Maseno West Diocese presided over the prayer meeting that was attended by...
Read More ...